NY Green Amendment Election Day!
Election Day is on Tuesday, November 2nd, and all of New York will have the opportunity to cast a vote to amend the state constitution to establish the right to clean air and clean water.
---
The ballot question reads as follows:
Ballot Proposal 2:
FORM OF SUBMISSION OF PROPOSAL NUMBER TWO, AN AMENDMENT
Right to Clean Air, Clean Water, and a Healthful Environment
The proposed amendment to Article I of the New York Constitution would establish the right of each person to clean air and water and a healthful environment. Shall the proposed amendment be approved?
---
Want to help? Here's how:
Spread The Word — Distribute Door Hangers
Among our most important tasks for securing a New York Green Amendment is educating friends & neighbors about the values of having a NY Green Amendment and encouraging them to vote yes on November 2nd.  An easy way to do that is to share 5, 10, 20, 35, 100 or more of our pre-printed door hangers.
Please consider volunteering to canvas your neighborhood and put door hangers on just a few or lots of doors, it's all helpful!  If you don't want to hang them on doors you can also hand them out to people you see – share it with co-workers, family or friends.
Our friendly and bright door hangers provide basic information about the power and importance of securing bill of rights protection for our environmental rights, and alerts people that they will have the opportunity to vote on the proposed New York Green Amendment at the upcoming November 2nd election.
If you are willing to spread the word by distributing door hangers – whether a few or lots – just let us know by sending an email to GAFTG@ForTheGenerations.org, give us your name, address, phone number and how many you want and we'll send them right out.
Or sign up on this google form: New York Action Plan
Spread the Word on Social Media
Help us spread the word about the upcoming vote in November! Let your friends and family know what environmental rights are and how they can help your community and environment. Share the petition link and share why the right to clean water and air and a healthful environment is important to you. Be sure to use #NYGreenAmendment #GreenAmendment or #GreenAmendments4Justice.
Follow Our Air, Our Water, on Twitter, Facebook, and Instagram to easily share our educational posts and stay up to date.
Sign Our Petition
Pledge Your Support to Vote YES for a Right to Clean Water and Air! This fall, New Yorkers have a historic opportunity to add environmental rights to the New York State Constitution. By voting YES on the ballot question, we can enshrine a right to clean air and water and a healthful environment into the Bill of Rights.
---
Learn more about the power and importance of a NY Green Amendment at: www.NYGreenAmendment.org
Make a plan, go here for more information for voting in New York.
The Delaware Riverkeeper Network is working as part of the Our Air, Our Water Coalition. Find out more information here.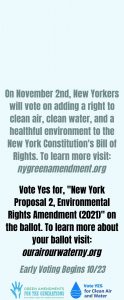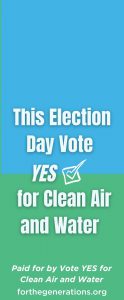 Date:
Tuesday, November 2, 2021 - 07:00 AM